Call Us :
0141-2700448, 3257106
FACILITIES @ Sambhav Academy
STUDY MATERIAL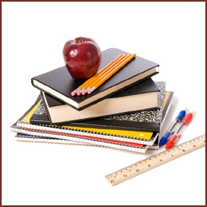 Present scenario requires some tricks, methodical approach to obtain success. The study material provided by Sambhav is unparalleled. It is designed and developed by experienced faculty members who enable students to crack various entrance exams. Study material includes all relevant information on every topic, without unnecessary details, followed by practice test question as well as questions asked in various entrance exams in last 10 years.
WPPS (Weekly Problem practice Sheet)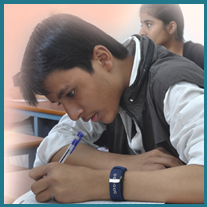 Weekly problem practice sheet is an integral part of the student development at Sambhav. After concept classes have been taken by the faculty a set of number of question are given to students on the same concept, so that a student is able to grasp its practical applications. This has turned out to be an excellent tool to potentiate the level of preparation.
LECTURE HALL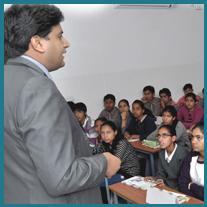 Classroom at Sambhav are highly specious and fully furnished. They are equipped with Air conditioners and an advanced acoustic system. Limited student strength in classrooms ensures personal attention to each & every student.
CONVEYANCE & HOSTEL
Sambhav has an efficient transport to provide the commuting facility for students from all over the city. This is to confirm that geographical distance confers routine problems for the students, never be a hurdle for them.

There are several hostels at stone's throw away distance, providing secure a hygienic accommodations to the aspirants. The rooms are spacious with adequate ventilation and the comfort level is as good as your own home.
LIBRARY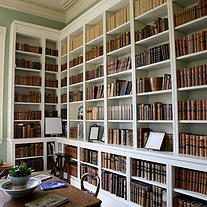 The library at Sambhav is an encyclopedia of knowledge and contains information on the latest trends and turns, in the competitive exams.

The library, filled with several titles is adequately modernized and arranged orderly, to make book hunts easier and lesser time consuming.
R & D DEPARTMENT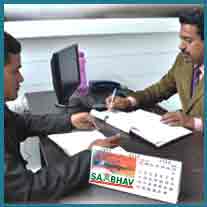 The R&D is the backbone of any project and it must be kept abreast with the latest development to ensure the growth and success repeatedly. The pattern of various medical and engineering exams keeps changing every year. R&D Cell is responsible for developing the study material and making necessary changes or supplement in accordance with the changing trends of various exams.

A well researched and well compiled study material is one of most important aspect of Medical/Engineering entrance exams preparation. A team of experienced and knowledgeable faculty members works round the clock to develop the unique study material which focuses on quality and quantity without burdening the students with unnecessary bulk.
DOUBT SESSION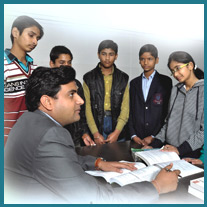 For all the students, after getting proper learning and expertise in a subject, it is necessary that all their doubts should be cleared, well in time.

The Unique teaching methodology at Sambhav includes necessary ingredients of regular doubt removal sessions. Sambhav has faculty members, capable enough to resolve the problems, as per the convenience of the students.
TEST SERIES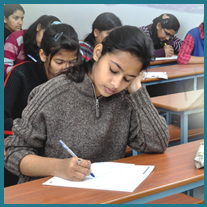 Scientifically designed test series is a specialty of Sambhav. At Sambhav, we take special Initiative to devise a testing system where the students are constantly made aware of their progress level. This ensures that the students make the best use of our teaching methodology that goes beyond formal classrooms lectures.